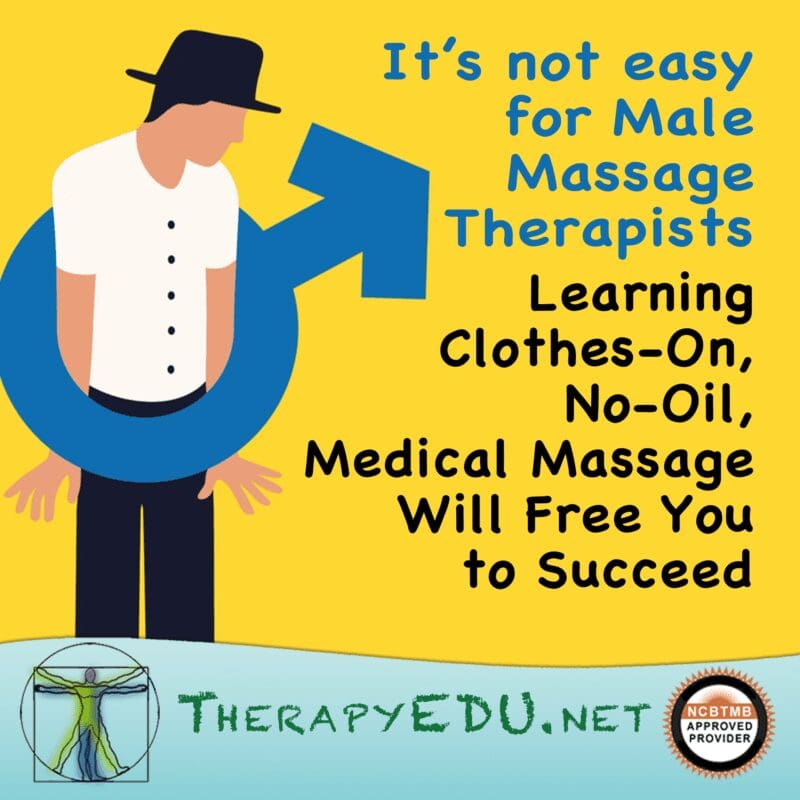 Clothes-on Massage resolves gender issues which can be particularly troubling for male therapists. It also allows clients who have body issues to be comfortable not having to disrobe.
It's not easy for Male Massage Therapists
Learning Clothes-On, No-Oil, Medical Massage Will Free You to Succeed
This work for male therapists is so important because it's clothes-on work.
With the atmosphere that we have today with sexual harassment, this course will take all of those questions out of people's minds.
I encourage Men to take David Morin's Medical Massage course.
It will change your business. 100%, I guarantee you will have an increase in business with this work.
This course has impacted me in such a profound way. Professionally and personally,
I'm working with doctors and chiropractors because of what I have learned here.
I have gained more respect. I've gotten a lot more referrals, it has totally changed my business, I'm booked months in advance.
It makes me feel great. It makes me feel like I am part of the professional world.
I communicate with a lot of chiropractors, therapists, and Doctors. They make me feel like I'm a part of people's health and recovery.
The coursework? I feel that it's very thorough.
It's not only clinical, they put their heart and soul research, a world of knowledge that they're sharing with us.
To anyone, considering this, I highly recommend it. You'll be amazed at what you find in yourself.
It'll open up a whole new world for you.
#medicalmassage #medicalmassagetherapy #clinicalmassage #ClinicalMassageTherapy #onlinemedicalmassage